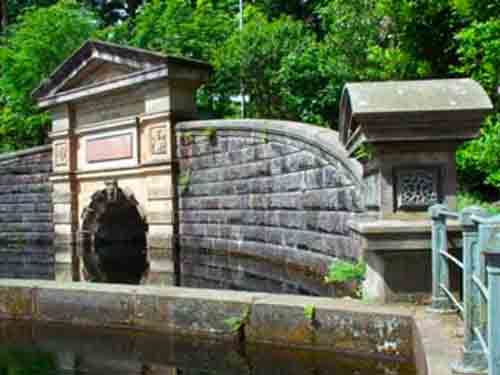 Victorian era: the Waterworks
COMMITTEE MEMBERS
Eric Gotts (Chair), Hilary Howatt (secretary), Betty Black, Bob Diamond, Lonwen Edwards, Irene Gardner, Eve Gilmore, June Kerr, Ann Laybourn (minutes), Nigel Scott, Elaine Shearer, Keith Stiring.
Milngavie Heritage Centre is grateful to the late John Edwards for setting up this website and many years of help and support.
Constitution, March 2015 »

Committee folder. Requires username and password ».
The Concept
What we have in mind is a dramatic visual experience of the sweep of Milngavie history, from prehistoric times down to the present. Professionally designed banner displays would cover such concepts as:
Prehistoric Milngavie, Mediaeval Milngavie, Civic Milngavie, Milngavie Personalities, Commuting from Milngavie to Glasgow and Modern Milngavie.
These would form an engrossing panorama to enable the visitor to wander as a time-traveller, through the various phases of Milngavie History.
Promises of Support
Besides Milngavie Community Council and Milngavie Heritage & History Group the following have so far promised support:
Bearsden & Milngavie Historical Society, Bearsden & Milngavie Ramblers, Douglas Academy History Group, Tannoch Loch Company, Milngavie Bookshop, Milngavie Tourism Information Office, and Scottish Water.